Yorkshire Association
Fundraising
SPONSORED CYCLE RIDE
SCARBOROUGH & DISTRICT BRANCH 8th-10th MAY 2020
Sponsored cycle ride in aid of BRF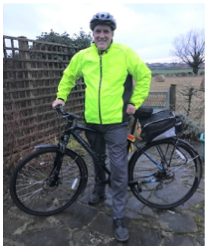 https://www.justgiving.com/crowdfunding/bellrepairride
I fancied a challenge and an opportunity arose when Helen Pells said she was looking at ways to raise money for the Yorkshire Association Bell Repair Fund. My challenge is to cycle to all the churches listed in the YACR annual report under Scarborough & District Branch – there are 27 including several that are listed as "unringable", maybe some of these may benefit from the money I raise!! Hopefully, every tower I visit will be able to participate, whether that be a photo opportunity, a quarter peal while I cycle by, or I ring with them for 10 minutes.
I'll be starting at Bridlington on Friday 8th May and finishing at Norton-juxta-Malton on Sunday 10th. This coincides with the national celebrations for the 75th anniversary of VE Day when bells should be ringing anyway! I will publish a detailed time line in due course.
The main aim is to raise money so I have opened a "just giving" page –
https://www.justgiving.com/crowdfunding/bellrepairride
so please visit the page and pledge generously – I hope my challenge is worthy of a few pounds from you all! I have a target of £300 but let's see if we can get more. There are over 100 members listed in the district so here's hoping!
Also it would be good to have some company and even back up support along the way. I am not a racer nor a plodder, more someone who likes to keep moving at a reasonable rate (if you are thinking of cycling with me for part of the ride!!). I will be passing your church so let's make some plans. If you would like to ring a quarter peal and need some help, please contact Anne Deebank, who has offered to co-ordinate the ringing efforts.
So please get sponsoring and let your friends know as well More details nearer the time of the ride.
Steve Waterworth
Norton Tower
On line shopping
Did you know that you can support the BRF by shopping online?
Every time you shop online via easyfundraising at one of the 3,300 retailers including John Lewis, Aviva, Sainsbury's and Booking.com, a donation will be made to YACR BRF, and it won't cost you a penny extra.
It's really simple to get started;
Go to https://www.easyfundraising.org.uk/causes/yorksassocbellring/
Sign up for free
Get shopping – your donations will be collected by easyfundraising and automatically sent to YACR BRF. It couldn't be easier!
There are no catches or hidden charges and YACR BRF will be really grateful for your donations.
Thank you for your support.
Regular Donations
If you would like to donate to the bell repair fund regularly, you can set up a standing order using the form below.
If you just want to make a one-off donation, then please use this form.
YACR Products
Profits from the sale of Association garments, Snowdon Books and the Education Committee bookstall, which is usually brought to Association meetings, are also donated to the Bell Repair Fund.